A demonstration in support of the Catalan national teams will take place today at 18 00 in the Placa Major de Vic.
Last Tuesday 14th, in a press conference at Club Pati Vic, the Commission "One nation, one selection", explained the reasons behind this demonstration and also informed that the commission is working towards helping for the recognition of the Catalan hockey team and getting the support of the people of Osona.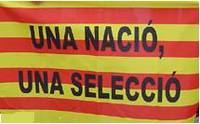 For this reason the commission is selling banners for 5 euros (see picture above) in order to finance the journey to Barcelona for the demonstration of the 29th of December.
In addition the contacts and collaboration with the two main roller hockey teams in Osona, C.P Vic and C.P Voltrega has been strengthened over the past weeks.
These two teams, big rivals on the rink, have offered all their support and will attend the demonstration just 24 hours before the local derby that will confront them.
From here we can only congratulate the commission and offer all our support.
Links:
Commission "One Nation, one Selection":
www.unanaciounaseleccio.tk/
Osona.com :
www.osona.com/SeleccioCatalanaHoquei.htm